Join us In Person or via Livestream Sundays at 10:45am • The Doris Building, 930 Broad Street, Downtown Augusta
NEXT STEPS
Learn more about
Sunday mornings at Redemption Church.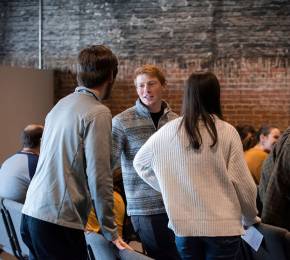 Learn more about Missional Communities, DNA Groups,
and service opportunities at Redemption Church.
Learn more about membership and baptism at Redemption Church.
Jesus loves and cares for you deeply.
Sadly, though the church is meant to share Jesus with everyone, it has often misrepresented Him and caused many to distrust the church and become skeptical of Jesus. At Redemption Church we are striving together to know the real Jesus and make Him known.
We aren't there yet, we're certainly not perfect, but we believe that we can be honest about our failures, sins, and weaknesses because the good news of Jesus redeems it all for the good of us and others. Actually, it is in these places that we often experience the love and grace of Jesus most vividly which equips us to love others in the same way.
We love our city and seek to serve our neighbors for the good of all who live here. Most of all, we want you to know that Jesus loves and values you, that we do too, and that you're invited into the family of God.
Current sermon series
The church in Rome was small and diverse, but it was brimming with tensions between Jewish and gentile believers. In his letter to the Romans, Paul leans into those tensions with an eternal and practical vision of how the gospel calls all people to unity in Jesus, by the Spirit, and for the purpose of glorifying God in all creation. 
Though we live in a tense and divided moment in our country and in the church, what Paul wrote to the Romans can and should lead us in the same way so that the gospel of Peace flows through us and delivers the restoring work of His Kingdom to our community and beyond.
Upcoming Events
<!=========Carousel View Template 2.3.2=========>
05
December
2021
3:00 pm - 6:00 pm
Get Updates & Helpful Content from Redemption Church.